This is a guest post from my intern this summer!  If you are interested in an internship at Dietitian In Your Kitchen contact Laura at laura@dietitianinyourkitchen.com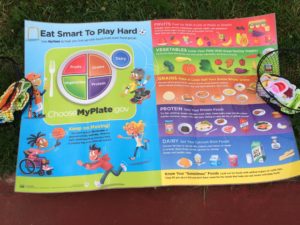 Hello, my name is Sami Brodsky and I am a senior at New Albany High School. I have lived in New Albany for five years. In order to graduate from New Albany High School, each senior must conduct their own project to present to a group of teachers. For my senior project I decided to intern with Laura Poland RDN, LD.
This summer I have helped her create Facebook posts about grilling, hydration, and going back to school. Along with the Facebook posts, I have also attended several meetings with Laura to help improve her business. We've been to a networking event where we met other local business owners and we set up our own health fair booth. At the health fair, I was able to encourage people to sign up for Laura's monthly newsletter as well as explain the background on Dietitian in Your Kitchen.
I have also met with a few of Laura's clients via ZOOM and a face-to-face check-up. I also took a few of Laura's winter menus and helped to analyse the nutrition information. I determined how many grains, proteins, fats, fruit, and vegetables there were in a meal by looking at the nutrition information.
This internship has been a wonderful experience for me because I've been able to look at healthy eating from a new perspective.
Sami Brodsky
New Albany High School Class of 2017