REVIEW:  Alton Brown's Eat Your Science
I just love food, I love what food can do to fuel the body, I love how food can heal the body.  I had the pleasure of attending the Alton Brown "Eat Your Science" show at the Palace Theater on Friday. I loved watching Alton Brown share his love and passion for the science of food.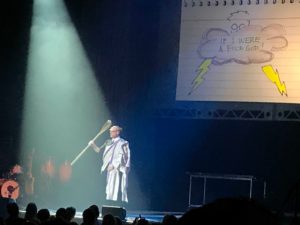 If you've never watched an episode of "Good Eats" here's a quick video which will give you a flavor of his enthusiasm. How To Slice A Mango  And, good news! There will be new episodes of Good Eats produced soon – announced straight from the man himself!!
The performance was highly entertaining!
I found it very interesting as his two main themes centered around Cocktails & Popcorn.  I recently attended and was inspired to create cordials by attending a "Wild Cocktail" event sponsored by Ohio Herb Education  Center and Gahanna Parks & Rec.  So I'm in the middle of creating a Lemon-Sage Cordial.  I just completed step 2 this weekend and now need to "steep" for 2 more months to see how my final creation turns out… You could say I was already intrigued with cocktails.
Cocktails
ANYWAY, Alton Brown described how cocktails are created with ~3 ingredients, where all of these ingredients can be combined in a variety of combinations.  It was all in good fun, but to start he made a classic cocktail with 2 parts Whisky, 1 part Vermouth, a dash of bitters and a cherry, a Manhattan.  Next he had a volunteer up on stage to spin 3 giant wheels and create her own cocktail.  The wheels landed on Vodka, Pumpkin Spice Latte and mouthwash.  From there we learned much about the senses that are involved with taste and that if you chill a drink (even a outlandish combination), it will improve the look and smell and therefore the taste of the beverage.
Popcorn
The second half of the event focused on Popcorn.  Popcorn is awesome!  Little known facts, popcorn is a whole grain.  But the cool part about popcorn is when it POPS!.  So Alton Brown demonstrated what can be found inside a kernel of corn.  For every 1 cup of popped corn there is 6 grams of carbohydrates; 1 gram of protein; 1 gram of fiber; Vitamins & Minerals (vitamins: folate, niacin, riboflavin, thiamine, pantothenic acid and vitamins B-6, A, E and K.  Minerals: iron, with lesser amounts of calcium, copper, magnesium, manganese, phosphorus, potassium and zinc).  For more fun facts check out the Popcorn Board web-site.  
But what makes it pop is the water!  The 14-20% moisture is what expands causing it to pop.  There was a lot of fun demonstrating the corn popping on a large scale.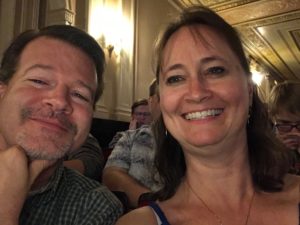 For an enjoyable evening all about food…  I highly recommend Alton Brown's "Eat Your Science".  Although I may never be as entertaining as Alton Brown, I do enjoy giving presentations and spreading enthusiasm about the science behind the foods we eat.  If your company is gearing up for wellness programs next year, check out my offerings here.  If you'd like me to discuss your companies wellness needs leave your information here.