It's easy to let the packed lunches slide as the school year wears on…
A new study showed that school lunches are more nutritious than home packed lunches…  On one hand that is hard to believe right?  School lunches healthy?  But guess what?  What most people don't realize that the school lunch has to meet rigorous standards for nutrition.  These standards, if the school utilizes federal dollars, is overseen by dietitians in the state of Ohio to ensure compliance.  However, if you have a child like mine, they prefer home packed lunches and you do too!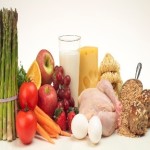 So let's pump up the nutrition on those home packed lunches!  It's really not that difficult.  Check out these 10 tips to building a healthy meal from Choose My Plate.gov.  These will apply not only to lunch but to breakfast and dinner as well.  But let's continue to focus on lunch… Here are the most important tips for your lunch packing from Choose My Plate.gov:
Make 1/2 your lunch box Fruits & Veggies – this requires you to plan ahead.  I recommend asking your child when you go to the grocery store tour what they would like to have you pack.
Add lean protein – 2-3 ounces is all that is needed but must not be skipped
Include whole grains – remember only 1/2 your grains need to be whole grain so find out what foods your child will tolerate as whole grains and which foods to avoid as whole grain
Don't forget the dairy – this can be cheese added to a sandwich or a yogurt…  my kids would just buy a milk at the school to have a cold beverage with their meal.
Satisfy your sweet tooth in a healthy way – Fruit can satisfy a sweet tooth and the need for 1/2 your meal to be fruits & veggies!
At this point in the school year your child might be starting to feel a little bored with the home packed meal.  With a quick search on the internet here are some great ideas for packed lunches:
HAPPY PACKING!