614-706-3495
Call Laura to…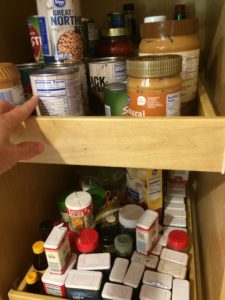 Stocking a Healthy Pantry
Let a dietitian come to your house, take a look at the foods on hand, and teach you how to shop for the best food choices to help you meet your goals.  You will receive a detailed "cheat sheet" to help you make healthier choices at the grocery store.  Call today!
A one hour check-up includes:
Pre-Visit Questionnaire
Pantry Review
Refrigerator & Freezer Review
Nutrition Label Savvy Tips
Additional topics per need: Budget shopping, Label reading for diabetes, Grocery shopping tips, Goal setting
Unlimited participants – can be done as a group event!
Please contact Laura to schedule the Healthy Kitchen Check Up.
  614-706-3495