[fusion_text]
Nicaragua from a Dietitian's Perspective
This past month I had the pleasure of taking a trip to Nicaragua with my mother's church group.  The church of Messiah in Westerville Ohio has been going to Nicaragua for at least 7 years now.  They have identified several communities to service when they are down there.  This is a summary of our service from a nutrition perspective…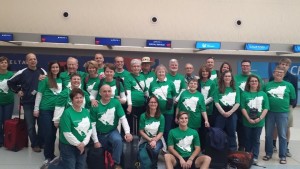 28 of us travelled together down to Nicaragua.  We were informed not to drink the water or eat anything fresh washed with local water.  So, I enjoyed my last iced tea and salad!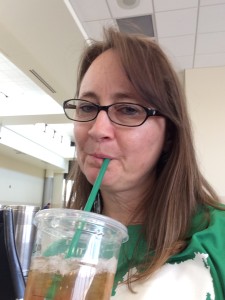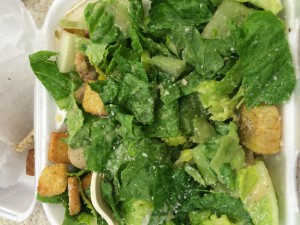 I wasn't sure what to expect with these restrictions, but I did manage to consume plenty of fruits & vegetables.  Breakfast at our hotel started the day off well!  We had fresh made to order omelets, fresh fruit & pinto de gallo (rice and beans).  Very balanced and nutritious!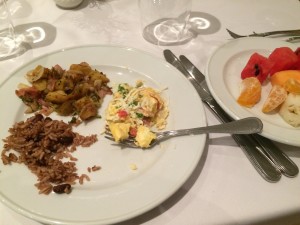 DAY ONE
We got around in two oversized vans, our first trip was to a large farmer's market to buy food for the families of Chacocente.  These people were relocated out of the local dump in 2003.  To learn more about their story check out the web-site:  www.outofthedump.org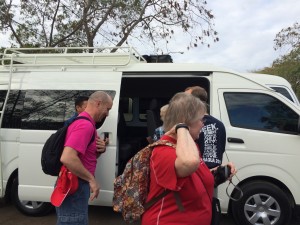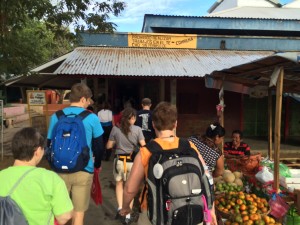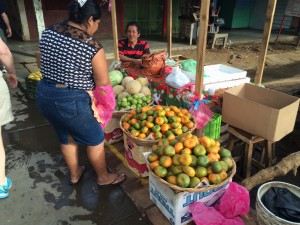 Our first purchase was rice & beans.  We stuck to only non-perishable food since we would not be able to deliver the food until later in the day.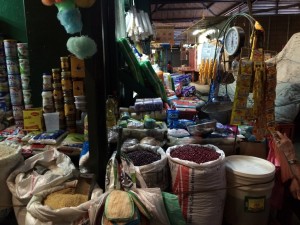 Check out the size of these avacados!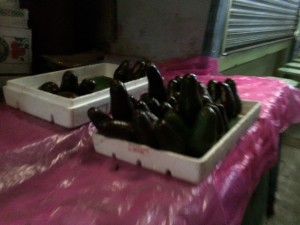 Not sure what this was, but it was pretty!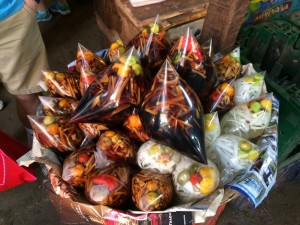 Now this is where it gets scary for a dietitian…  The danger zone, where bacteria grows best is 40-140 degrees, so that is why we keep our meats refrigerated.  RIGHT? This temperature zone is the same everywhere, even in Nicaragua!  Check out the sections where they kept the meats, it was the same temperature as the rest of the market – in the morning 75-80 degrees.  Do you see ice?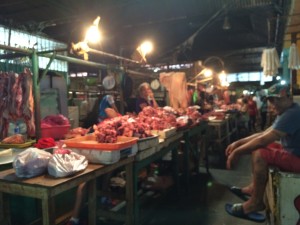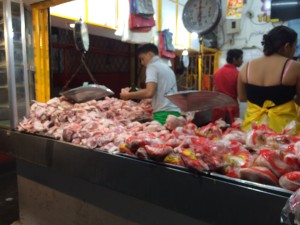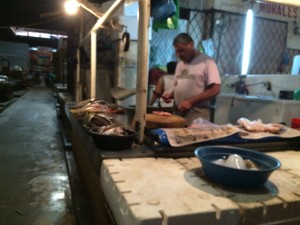 LOOK AWAY!!  Time to buy some plantains.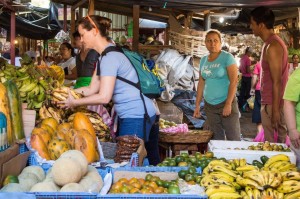 Later, we also shopped at a more traditional grocery store.  Here are some pictures of what that looked like…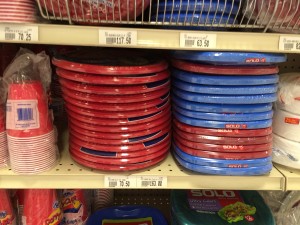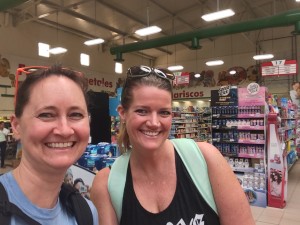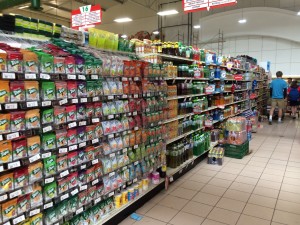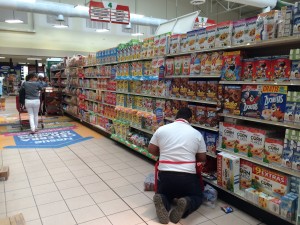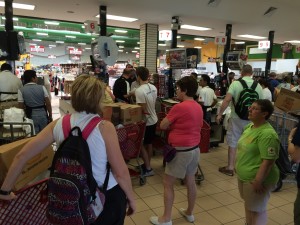 Looks familiar right?  We bought picnic supplies to serve lunch to the kids and families at the Chacocente School.  Next we stopped at "Tip Top" which is their version of KFC I think.  We ate lunch and then ordered the food for the picnic to go.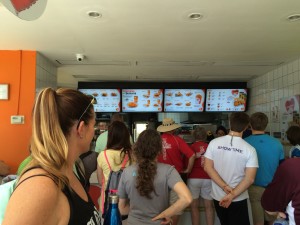 Now off to serve the kids & families at Chacocente: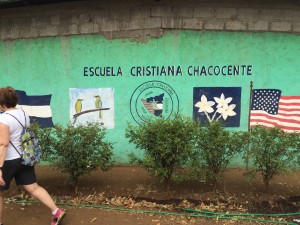 We had a drink station.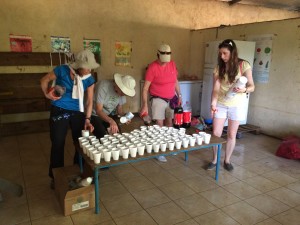 A plate assembly group.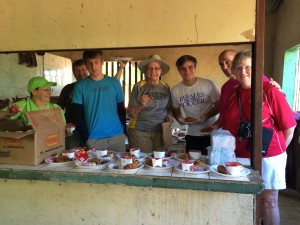 The kids lined up.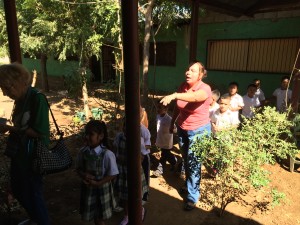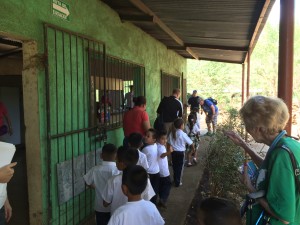 I handed out beanie babies, soccer jerseys & cinch bags.  Here's a happy customer!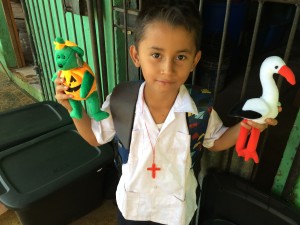 We got a brief tour of the school grounds and the villiage.  One of the families shared their house and land with us.  They have been very successful in turning the land into a thriving farm.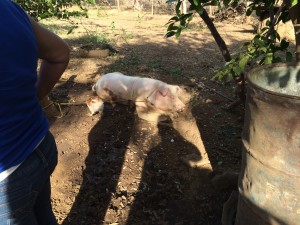 Thanks also to the living well that was installed locally, they have fresh, clean, running water!  When they relied on the city to provide the water they would sometimes shut it off for as long as a month.  The living well is much more reliable.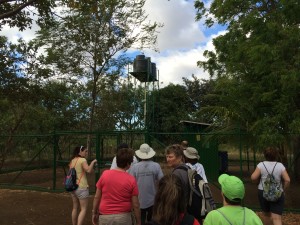 Now to distribute the food from the market to the families.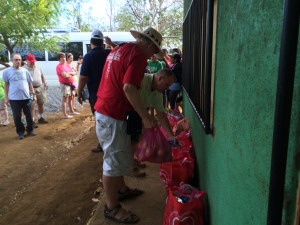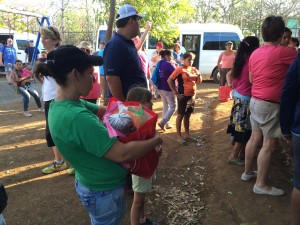 A late night dinner.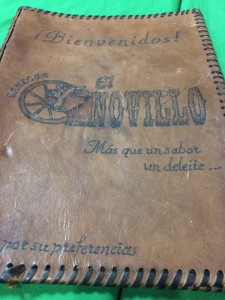 I ordered the garlic shrimp, rice and cooked vegetables.
DAY TWO
Day two I spent the entire day at Tesoros de Dios.  This is a support community for disabled children and their families.  To learn more about this community/program go to www.tesorosdedios.com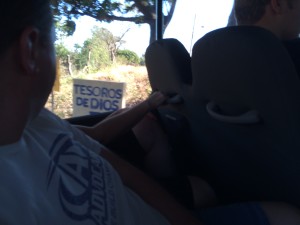 There is a school, with special equipment for the kids. And beautiful murals on the walls everywhere!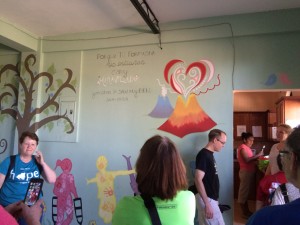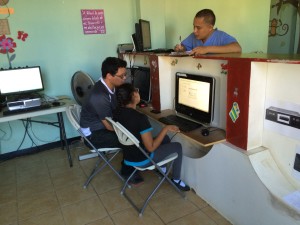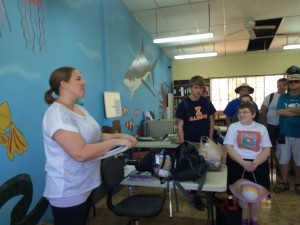 I got to wear my dietitian hat and actually give 3 presentations about nutrition.  Two to the families and one to the staff.  This is the classroom they set me up in… The gal on my left is my interpreter Marcia – she was amazing and fun to work with!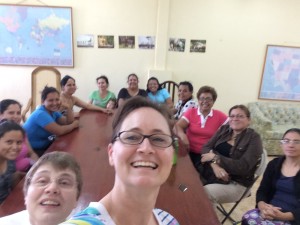 First class done!  I learned they have the same issues with healthy eating as we do.   Not enough fruits & vegetables!  Too much candy, sweets & treats.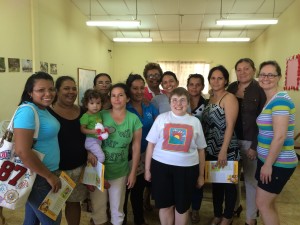 My first group of moms from the morning.  Now time to have lunch.  Here is a picture of the kitchen.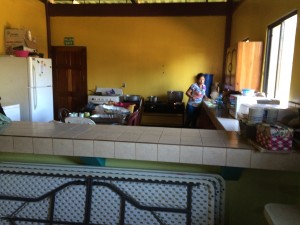 And this was lunch.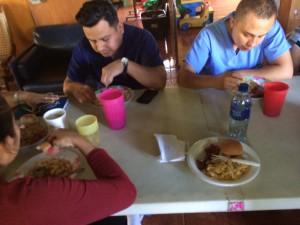 We ate with the staff during their break.  They have clients who come in the morning and others in the afternoon.  There is a 6 month wait list to get into this place.  The demand is high.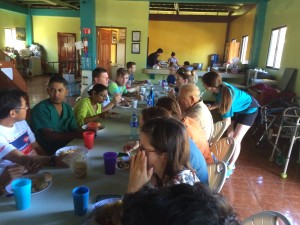 They offer PT, OT, Speech therapy & horse therapy!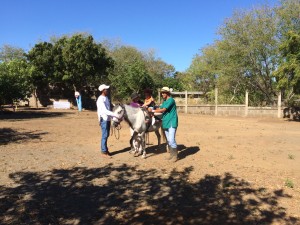 After lunch I got to present my nutrition talk to the staff.  They had a lot of great questions!  I was so happy to learn afterwards that the cook was so inspired she was going to take the handouts and create a mural about nutrition on a wall.  I will have to go back to see it when it is done!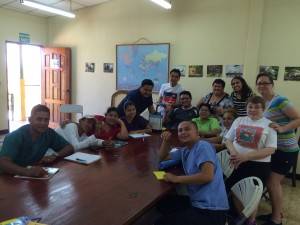 This is my afternoon mom's.  They were learning how to make a rug out of all of those plastic bags the grocery stores use.  I got this picture but unfortunately forgot to take a picture after our class.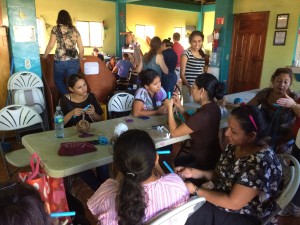 We then left, ran an errand at another grocery store to pick up supplies.  Later we met up with the staff and their families to take them to dinner at Pizza Hut.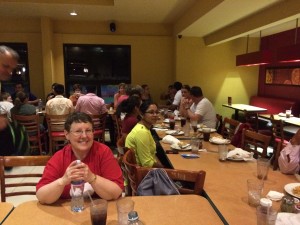 They gave each of us personalized thank you cards created by the kids and signed by the staff.  Here's what mine said.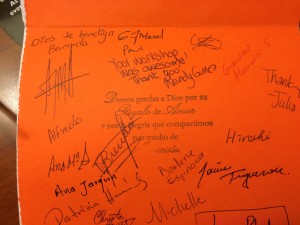 These were two fantastic days in Nicaragua.  I will post more later!
[/fusion_text]