Day 3
Day three we spent the morning sight-seeing. We started at a local pottery maker's home.   From sand to clay to the kiln we got to see the whole process:
Sand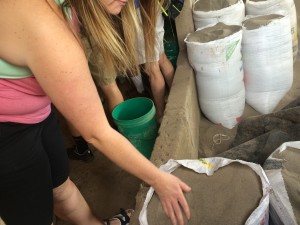 Clay (he was stomping this and putting in bags to ship and use)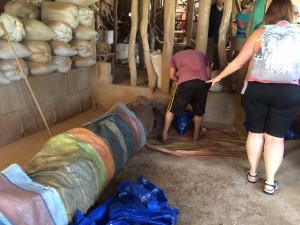 Then the Potter's wheel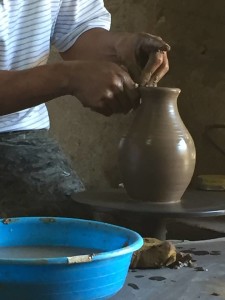 The Kiln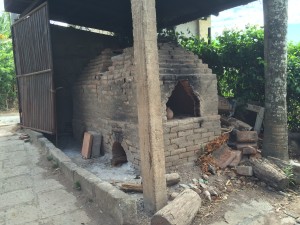 From there we went to the Pineapple fields.  I had never seen how pineapples grow before…  Did you know?  Trees? Bushes? Here you go: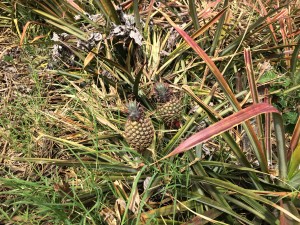 BUSHES!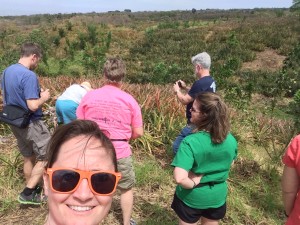 The pineapple stand was a hit!  The pineapples were so fresh we ate the core too…  It was so yummy!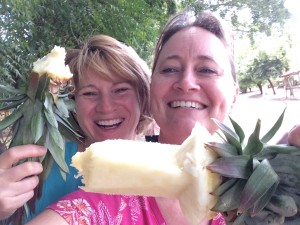 Next it was time to meet up with the girls from a local Orphanage.  We met at a resort where they could swim and eat at a sit down restaurant.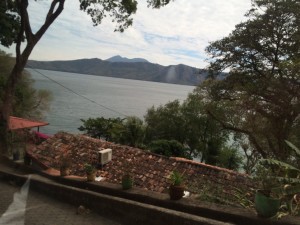 It is beautiful here!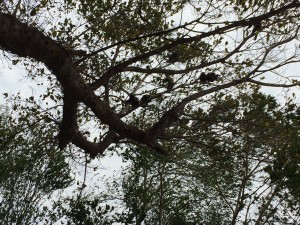 Monkey's In the Trees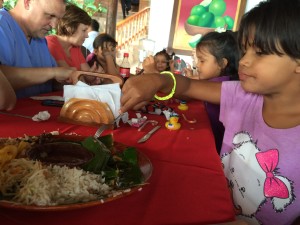 An appetizer before we swam.. Fried plantains, black bean dip, rice & veggies. Didn't last long!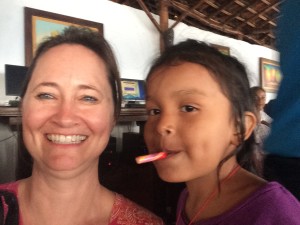 They warmed up to us…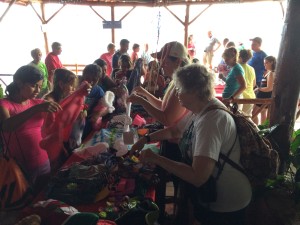 We brought goodies! Donated clothing and necessities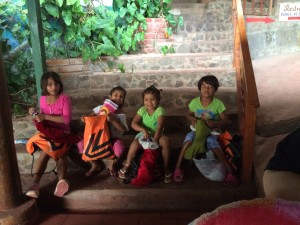 Olentangy HS students sent each child a "stocking" full of presents-a big hit!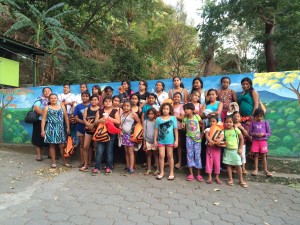 The whole group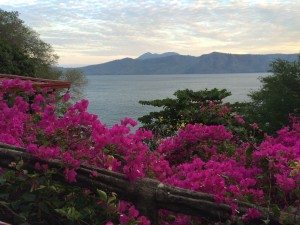 The sun was setting over the lake.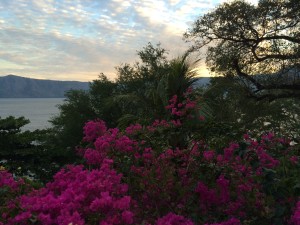 Just beautiful!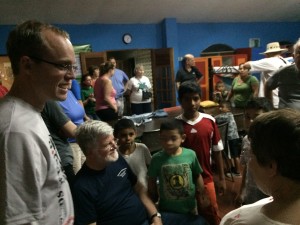 We traveled back to the Orphanage and got to see the boys (they get to enjoy the resort in a couple of weeks with the Otterbein students). Last year it was the boys who went with the group to the resort so they were happy to see some familiar faces.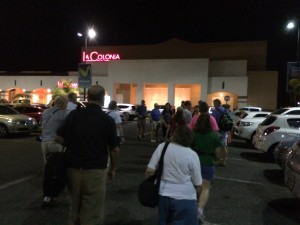 After a long day we found dinner at a local mall food court.
Day 4
We spent the day at Hertylandia a local water park with the kids from Tesorios de Dios and their families.  Our last chance to see the staff too.  Not many good pictures from me.  These pictures are from our official group photographer Kevin Keefer.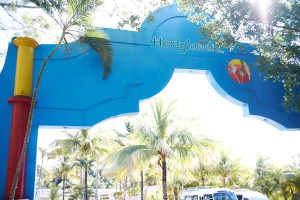 Herylandia open only for our group!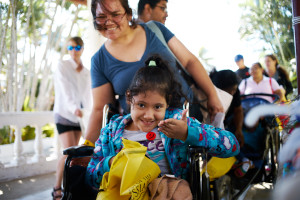 As the families arrived they were given goodies – drawstring bags, clothes and a t-shirt.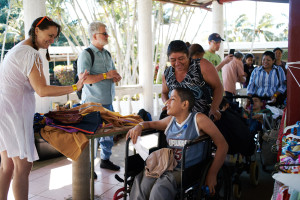 I helped with boys shorts.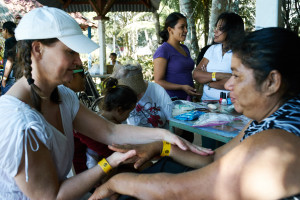 Then we set up Manicure Stations to pamper the moms.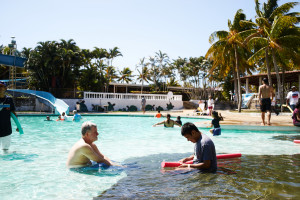 The kids really enjoyed playing with the noodles and going down the slide.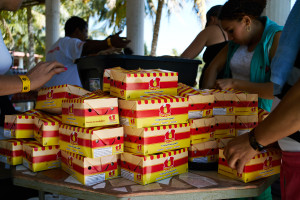 Guess what we had for lunch? Tip Top Chicken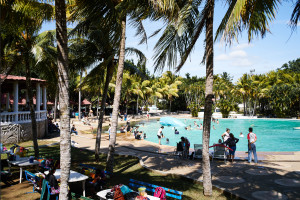 It was a beautiful day!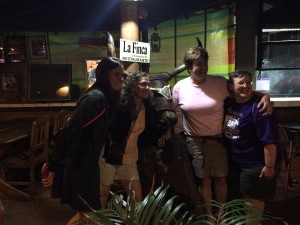 Dinner out to a nice restaurant "La Finca"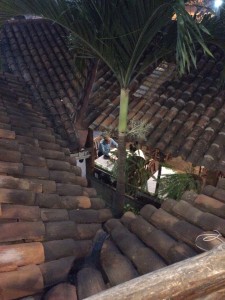 We were on the balcony, nice view of the restaurant below.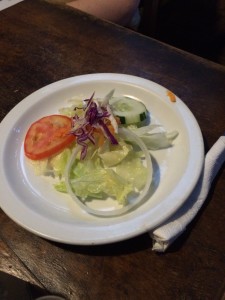 Yes! I had a salad, this restaurant uses filtered water to prepare their food.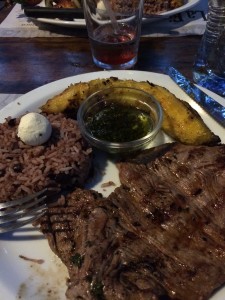 Steak dinner! Rice and Beans, Plantain & Jalapeno sauce.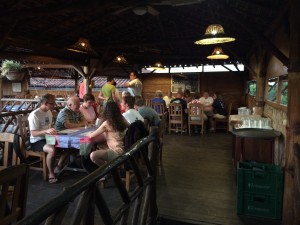 We took over the balcony.
DAY 5
This day started at a local government-run hospital, visiting the maternity ward and cancer ward.  We delivered presents for the babies and their moms.  We were going to sight-see at one of the volcanos but unfortunately they were "too active".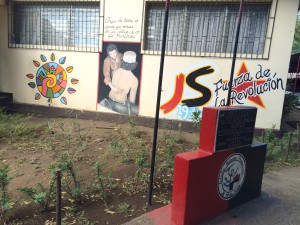 This is the entrance area.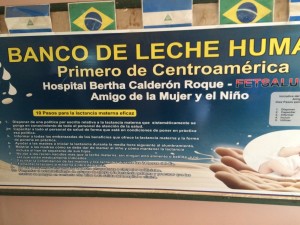 A poster about a breast milk bank.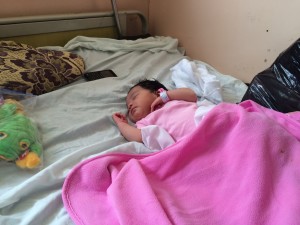 Newborns shared beds with their moms.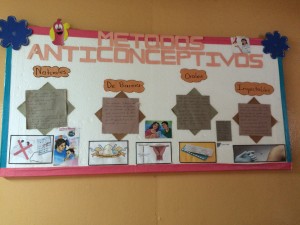 Educational bulletin boards throughout the hospital.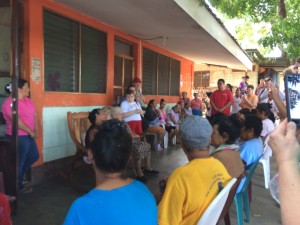 All of the patients and caregivers from the cancer rooms came out of their rooms and we sang songs together and then provided goodies.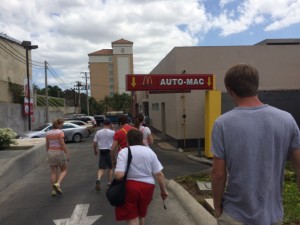 Lunch at McDonald's – see the Drive Thru? "Auto-Mac"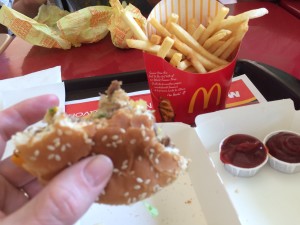 Big Mac Meal, what this RD ate.  What's an RD to do when salads are off-limits?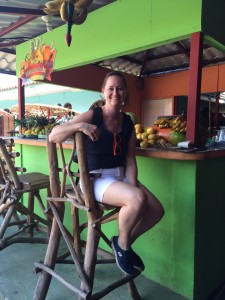 On our way to Ezequiel's church to provide lunch, we ordered Tip Top and waited at a local Market place.  I bought a new purse!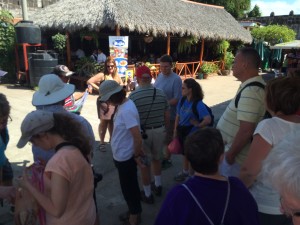 Waiting for the bus to pick us up and comparing our bargain buys.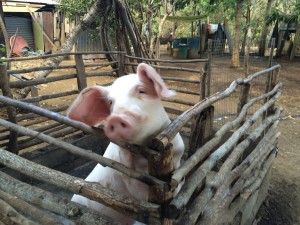 Arriving at Ezequiel's Church where we are picking up the piglets to take to another community tomorrow.  This is momma pig, cute but I think she was looking to see what happened to her babies…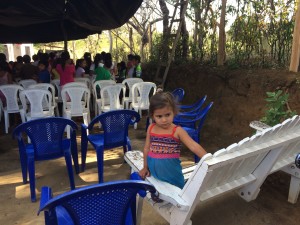 We arrived during pre-school activities.  This one was more interested in what we were doing.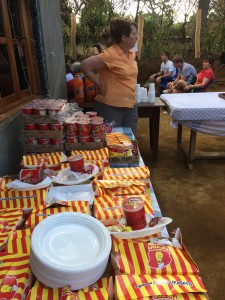 All set up to distribute another Tip Top meal.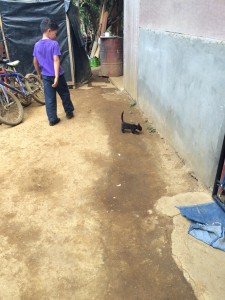 This skinny kitten showed up, good sense of smell!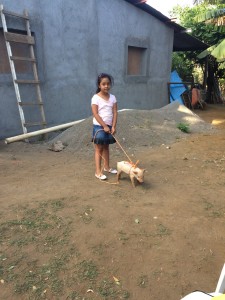 This little piglet get's to stay in this community.  It was brought into a circle of kids and whichever child it went to, the family got to keep the pig.  All the kids were screaming at the pig to come to them and of course the piglet didn't like the noise.  But eventually it went to one of the boys.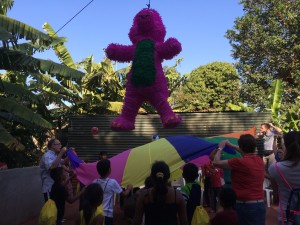 We played lots of games – Parachute and then a Pinata!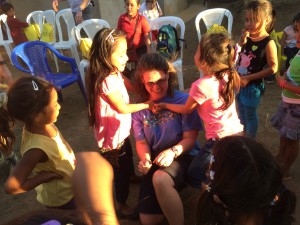 While the boys played soccer these girls played games with us, we sang in English "London Bridge is Falling Down".  Eventually they taught us one of their songs which was much more fun but very similar to London Bridge.
More To Come in the Final Installment…