I hope you enjoy this video from Good Day Columbus for National Peach Month – August!  I was asked to prepare a Bourbon Peach pie.  It was delicious!!  Although most of my peaches are enjoyed fresh like an apple, occasionally we find ourselves in excess of fresh fruit when it's in season.  I believe this recipe will work well with other fruits as well…
Here are a few fun facts I didn't get to mention during the segment:
Peaches are part of the rose family.
Georgia may be known as the peach state but most peaches are grown in California.
Peaches are not only juicy and tasty, but they are packed with nutrition! One large peach has only 68 calories, but provides 19% of an adult's daily value for vitamin C, 11% of vitamin A and 10% of potassium.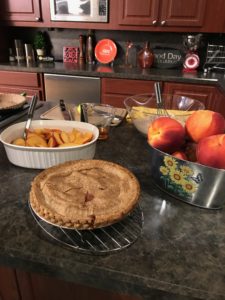 PEACH BOURBON PIE
INGREDIENTS:
5 cups thinly sliced (unpeeled) peaches
1/2 cup white sugar
1/2 cup brown sugar
1/2 cup flour
1 tsp. ground cinnamon
1/4 tsp. salt
pinch of nutmeg
2 tsp. lemon zest
1 tsp. lemon juice
1/4 cup bourbon
1 Tbsp. light butter
1 Wholly Wholesome whole wheat pie crust
DIRECTIONS:
In a large mixing bowl, whisk together flour, white sugar, brown sugar, cinnamon, nutmeg, salt and lemon zest. Add the peaches and toss to combine. Add the lemon juice and bourbon, and toss until evenly coated.
Pour the peach filling into the pie crust, and gently smooth the top into a (mostly) smooth surface. Cut the butter into small pieces and sprinkle evenly over the peaches. Bake at 400 degree F oven for 30 min. Then reduce the heat to 350 and bake for an additional 25-30 minutes, until crust is golden brown and filling is bubbling. If the crust begins to brown too much, loosely cover it with aluminum foil while baking.
Serve with whipped cream or vanilla ice cream.
ENJOY!!