Summertime!  I love how everything is so laid back and enjoyable.  This is the time of the year when I really like to take advantages of shortcuts in the kitchen.   Well, I found a new helpful product I just have to share with you all!  This product will help you limit how much time you are cooking in your kitchen (heating up the kitchen is not ideal for your A/C bills).  It's called Keystone: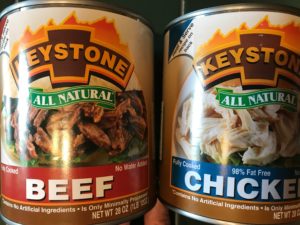 So yes, it's meat in a can.  But stay with me a minute.  It's two ingredients meat (chicken, beef, pork, turkey) and sea salt.  Now I know you have heard to stay away from processed foods.  Processed foods do tend to be high is sodium and can have other added ingredients.  But the sodium content on these meats is 5% or less of the Daily Value which is a very acceptable level for most of us.  The sodium in Keystone is added as the preservative.  Check out the label: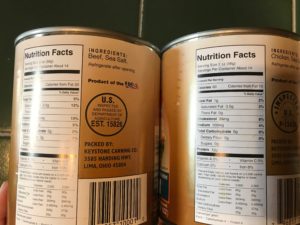 I got the pleasure of talking to the Good Day Columbus anchors Maria Durant & Phil Kelly today and we played a game to find out what the best choice is for healthy summer eating.  Click below to watch the segment.
Please enjoy the 3 recipes from the segment below. You can find even more recipes on the Keystone web-site!
EASY BBQ BEEF SANDWICHES
1 can (28 oz.) Keystone Beef, undrained
10 oz barbecue sauce
8-10 hamburger buns
STEPS
Stovetop Instructions: Heat Keystone Beef undrained in a pan on the stove top. Mix barbecue sauce, shred and stir. Heat on high to reduce the liquid for 5-7 minutes. Serve on hamburger buns.
Microwave Instructions: Place Keystone Beef in a microwavable safe bowl. Mix in barbecue sauce, shred and stir. Heat for 2 minutes in the microwave. Serve on hamburger
TARRAGON CHICKEN SALAD SANDWICH
INGREDIENTS
1 can (28 oz) Keystone Chicken, diced
1/4 cup dried cranberries, finely chopped
1 stalk celery, finely chopped
2 Tbsp. mustard
1/4 cup mayonnaise
1 or 2 tsp. dried tarragon (or use 1 or 2 Tbsp. fresh chopped tarragon)
1/4 cup onions, diced
1 tsp. lemon juice
Bread or croissants
STEPS
Mix all of the wet ingredients, and then add dry ingredients.
Add seasoning to taste.
Serve with sliced tomatoes and lettuce for sandwich toppings
EASY FRUIT SALAD

INGREDIENTS
2 cups fresh strawberries, sliced
2 cups seedless grapes, any variety, halved
1 small cantaloupe, cut in chunks
2 firm bananas, sliced
1/3 cup orange juice
STEPS
In a large bowl, combine all of the fruit.
Pour the orange juice over the fruit and toss to coat
Cover and refrigerate for 4 hours and then stir before serving.