As school starts back up and schedules get hectic, there is a national movement to get families back at the dinner table.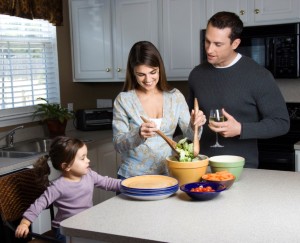 I had the pleasure of preparing a cooking segment for WBNS last weekend.  I was able to talk about National Family Meals Month (September), and share a recipe you can try.  Click here to watch the video.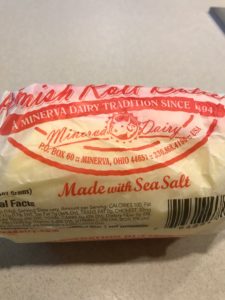 The segment featured Minerva Dairy Butter.  The recipe below is a recipe from their web-site. I'm always looking for ideas 🙂  This is a picture of the Amish Butter Roll – it's a 2 pound roll of butter.  One of the things that the older kids can do is to help to score the butter so you will be able to use it in recipes.  One pound of butter typically comes in 4 sticks at 1/2 cup each.  So I divided my roll in half and then divided each half into 4 sections.  Now I can easily cut what I need for recipes.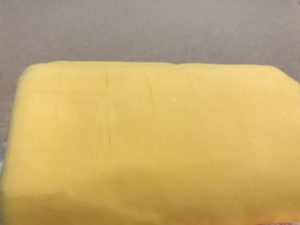 Here's what having routine family meals can do for your family:
Family bonding: Kids enjoy connecting with parents and other family members over meals, bringing a sense of togetherness and belonging.
Higher grades: During family dinners, kids and teens have exposure to a broader vocabulary and have an opportunity to express their ideas. Parents also learn more about what's going on at school and can become more involved.
Good food for growing bodies: Eating meals at home can provide essential nutrients that kids and teens need to grow strong and healthy. Meals at home are also more likely to include nutrient rich fruits, vegetables and dairy.
Pro Tip: Involve the entire family in dinner meals.  Starting with meal planning.  Ask for suggestions on what to cook, let each child choose a meal/entree for the week. Next, have the kids help with the grocery shopping.  Finally, let the kids help with the preparing of the meals.  As your kids get older there will be more that they can be responsible for when prepping meals.  Stick with this!  When my kids were high school age, they planned and prepared a family meal once a week during summer breaks!!
Here's the final product: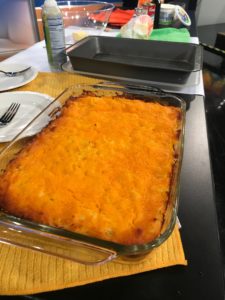 Potato Reunion Casserole (from Minerva Dairy with edits by Laura)
Ingredients:
• 32 oz. hash brown potatoes, thawed
• 1/2 tsp. pepper
• 1/2 cup Minerva Dairy Amish Roll Butter
• 1 can of Cream of Cheddar or Cream of Mushroom Soup (reduced fat if you can find it)
• 1 medium onion, chopped fine
• 1 carton reduced fat sour cream (16 oz.)
• 1 tsp. salt
• 8 oz. grated Cheddar Cheese (or your favorite)
Directions:
1. Mix everything except cheese together and put in a greased 9 X 13-inch pan.
2. Sprinkle the cheese on top and bake at 325 degrees for 40-50 minutes.